1890s, very British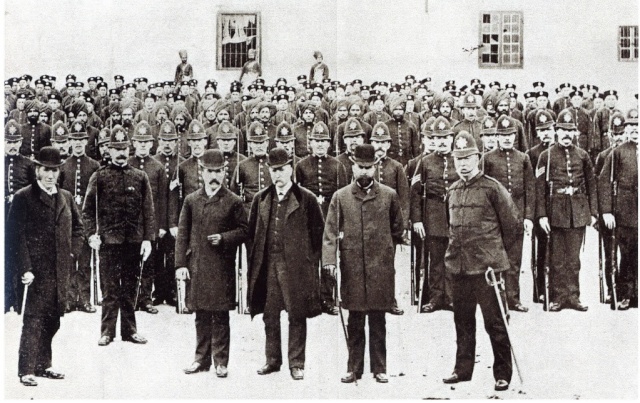 1930s Brownings and armoured vests
Im especially intrigued by the photo of the police in body armor. Ive never even heard of police wearing body armor before the 1970s here in the United States. British police dident regularly wear body armor until the 1990s!

What are those chevron like marks on the right cuffs of the 2 officers on the left? Also, what is the striped thingy on the left cuff of all the officers? I have often seen this in pictures of British and British colonial police back in olden days (from the mid 1800s until the 1960s/1970s).



Posts

: 339


Join date

: 2008-05-19


Location

: Long Island, New York, USA



The Shanghai Municipal Police were ahead of their time in many regards, having to deal with a particularly lawless society. Their armoured vests are really interesting as are the SWAT tactics they used and the fact that Fairburn (of Sykes-Fairburn Commando knife) was an officer of the force and developed a lot of fighting techniques that were later adopted by other forces and the allies in WWII.
The chevrons are most likely rank badges for Chinese constables, although I'm not sure. The darker colour may be because they are red?
Note the conical hat with feather decoration and rank on the lower left sleeve. I am unsure of the badge on the upper left sleeve. His identifying numbers are on the collar.
Shanghai 1937. I think the lone Briton is police by the cuff markings.



Posts

: 386


Join date

: 2008-07-27





Similar topics
---
Permissions in this forum:
You
cannot
reply to topics in this forum