One of the plates illustrates the mess dress of the Corps of Military Accountants from 1923 (I couldn't resist including it). I found this photo on the net of their side cap and include it to show another aspect of the Corps' dress.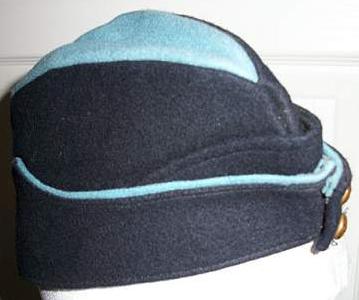 From Wikipedia (http://en.wikipedia.org/wiki/Corps_of_Military_Accountants):
The Corps of Military Accountants was a short-lived corps of the British Army. It was formed in November 1919 and disbanded in July 1925. Its members handled financial matters, although matters relating to pay continued to be handled by the Royal Army Pay Corps.
All personnel serving as Military Accountant Officers and Military Accountant Clerks transferred to the new corps. On the disbandment of the corps most of its personnel who chose to stay in the Army either reverted to their previous regiments and corps or transferred to the RAPC.



Posts

: 1129


Join date

: 2008-04-03



Sean,
Are you sure this cap is actually from the corps? It looks like Royal Signals to me. The reason I query it is that a mess kit of the corps turned up in Bosley's most recent sale and the facing colour is a deep Royal blue whereas the light blue, as I say, looks like Royal Signals



Posts

: 21


Join date

: 2009-10-22



I'm not 100% sure, as I am going off the label appended by the owner.
Can you provide any details or illustrations of the mess kit?



Posts

: 1129


Join date

: 2008-04-03



The mess kit was universal pattern, dark blue with royal blue lapels with gilt Corps badges, royal blue shoulder straps, royal blue ROUND i.e. square rather than pointed cuffs, royal blue waistcoat, facing colour is a deep medium blue not the light blue on side cap which is Royal Signals, I too saw the "identificatin" which was hearsay from someone's opinion without any proof. There were unfortunately no overalls/trousers with the mess kit at auction.



Posts

: 21


Join date

: 2009-10-22




---
Permissions in this forum:
You
cannot
reply to topics in this forum