Many thanks to Michael P for pointing out my mistake. Its taken me too long to get this up, sorry.
In the section on General Notes on Uniforms
With the creation of the SDF the basic uniform remained drill but the fez was replaced by a large turban. I believe the Force initially wore a single square colour patch of green and red, halfed diagonally and with individual unit badges attached. They also used large round plumes in their turbans as unit identifiers, with the Camel Corps having black and the Western Arab Corps purple. The British officers wore these distinctions attached to their sun helmets, and may also have worn the SDF bage attached to the front in the 'V' of the puggaree. I believe that the majority of units wore a green kamarband. However, the engineers wore blue and the Western Arab Corps purple-blue. Other units/Corps may have worn distinctive colours but I have no further details.
For plate 75
Inserted into the top of the turban is a brush or plume of purple feathers, the unitís distinctive item. His kamarband is also a purplish colour, tinged blue.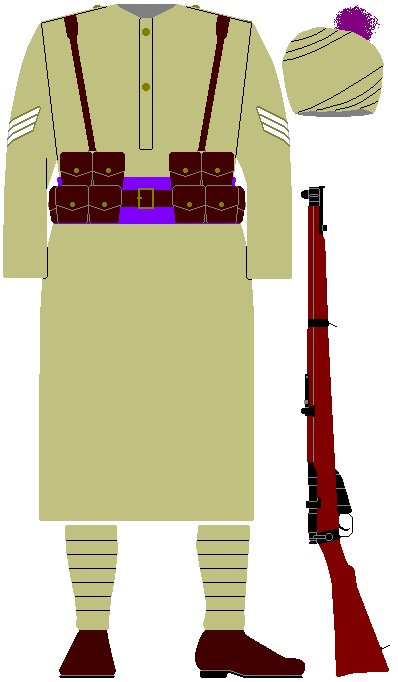 Posts

: 1129


Join date

: 2008-04-03



I'm afraid I've never heard of the Western Arab Corps and can't find anything on it online.



Posts

: 191


Join date

: 2008-04-09



Sounds like a good opening to say 'buy the CD and find out all about it''.
It was one of a number of sub-units of the Sudan Defence Force raised in the 1920s, becoming the Sudanese Army in the 1950s.
Included the Shendi Horse, Camel Corps, Equatorial Corps, Eastern Arab Corps, Motor Machinegun Companies



Posts

: 1129


Join date

: 2008-04-03



I didn't realize it was a new CD when I first checked the topic. I guess I wasn't looking.

I always pictured the British Sudanese units of the period wearing something like the uniform worn by the Sudanese sergeant in the old Humphrey Bogart movie Sahara, with shirt, shorts, a Foreign Legion type hat with large peak, and 1908 web equipment. I was surprised to see your illustration wearing a leather version, since I figured there would've been more than enough webbing sets left over from WWI by the 1920's to equip the force.



Posts

: 191


Join date

: 2008-04-09




---
Permissions in this forum:
You
cannot
reply to topics in this forum