Fairly stadard WW1 tunics turned back for Scottish effect. But the guy on the left, presumably Black Watch, is it a dark blue version of the service jacket?
Can anyone identify the units?
Prisoners?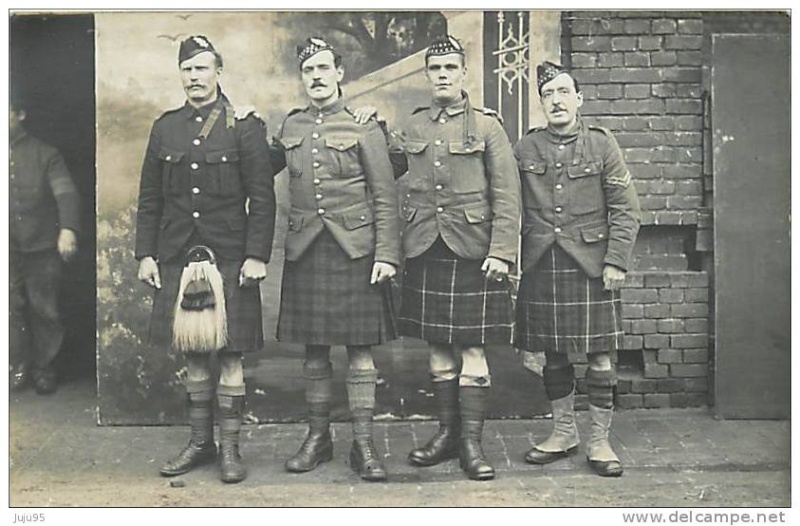 Posts

: 1129


Join date

: 2008-04-03



Looking at the pictures in Ray Westlake's KITCHENER'S ARMY, I see most of the stop-gap dark-blue uniforms issued during the British army's expansion in 1914-15 looking like this:
Much less common were some with brass buttons and chest pockets:



Posts

: 386


Join date

: 2008-07-27



I've just noticed the other jackets. What looks like a Canadian service jacket and two austerity versions. Makes it an even more interesting picture.



Posts

: 1129


Join date

: 2008-04-03



It doesn't look like everyone in the first photo got around to having their s.d. jackets cut away in regimental style but just tucked the front of the skirt back a little. There are other photos of highlanders not wearing jackets that had been altered. Apparently, the jackets were not manufactured special for Scottish units but were altered at unit level.

This is just a guess but it's possible the man wearing what appears to be dark blue could be a member of a recruiting party, except nothing otherwise identifies him like that. Recruiting sergeants (and he doesn't appear to be a sergeant, either) were later authorized special uniforms but that was in the 1930s. Anyhow, that the first photo of the blue "emergency" uniform I've seen with breast pockets.



Posts

: 23


Join date

: 2013-01-30



At a guess I would say, left to right, Black Watch, Argyll and Sutherland Highlanders (with standard issue jacket folded back rather than curved per the soldier next to him), and the last two Gordon Highlanders. c. 1915 They are wearing 'walking out' dress - basic service uniform without sporran.
From
http://gordonhighlanders1914-18.co.uk/uniform.html
"In general, the recruits who joined in 1914 and early 1915, in the enthusiastic rush to enlist after the declaration of war, did not receive their full uniforms straight away, for the army simply couldn't keep up with the demand. This was especially so for those joining the New Army (service or Kitchener) battalions, which, unlike the regular and Territorial battalions, had little or no kit in stock to start with. Many recruits to Highland regiments carried out their initial training in dark blue "postmen's" uniforms or with outdated or non-regimental items of kit, and sometimes with khaki kilts. Regimental kilts were issued relatively late to a number of the Kitchener battalions. While waiting to be kitted out, the soldiers would often have to borrow a kilt to have their obligatory photograph taken to send to their sweetheart or family. Many recruits were issued with the standard square-cut service dress jacket rather than a Highland 'cutaway' version, and took this with them on active service. There is some evidence that, however rigorously enforced, this became official policy from 1915, the idea being that the squared-off corner was more convenient for sewing on the field dressing."



Posts

: 2


Join date

: 2013-01-05



When you study the photos for a while you begin to notice other interesting details. For instance, the right hand figure (the corporal) is wearing the old drab spats, which probably marks him as an old-timer. The third figure, on the other hand, appears to be wearing diced hosetops and full length puttees. He also appears to be wearing later pattern boots that have a more prominent toe or maybe even a toe-cap. The first figure appears to have lost the badge from his sporran but his blue jacket does look very smart.

I recall reading that the London Scottish went into action in 1914 still wearing their hair sporrans but they removed their sporran badges beforehand. That did not keep a painter from painting them in, though, for a well known picture of them in action.

Wartime shortages together with fads and fashions always combine to make a mockery of uniform regulations, which always seem to lag behind what soldiers actually wear. Remember also, in wartime, everything is in short supply and even so, things do change. What the soldiers look like may be different in two years time. Another thing, which you are all aware of, is that photographs are only of limited value in interpreting either the normal dress of a soldier or the regulations he is supposed to be following. Limited value, yet invaluable at the same time. Of course that's what makes it all so interesting.

When I was in the service many, many years ago, no one was intersted in what they wore in the army when their father was in the army. Everyone wanted the latest thing. That didn't keep one master sergeant from wearing his herringbone twill fatigues from before the Korean War. It's funny how what is worn the most in the army is mentioned the least in the regulations. I wonder if the soldiers of 1915 were any different?





Posts

: 23


Join date

: 2013-01-30





Similar topics
---
Permissions in this forum:
You
cannot
reply to topics in this forum