Below: From TSITADEL ("Citadel") 2000 No. 1 (9). There was no caption to accompany this illlustration. I believe it is intended to complement an article on the bombardment of Sveaborg in the Baltic in 1855 during the Crimean War. I think it shows army garrison artillery rather than naval personnel. The Russian navy included fleet officers with naval rank titles and a Corps of Navigators and Corps of Marine Artillery both with army rank titles. But I believe the
Korpus Morskoi Artillerii
manned guns aboard ship and not in coastal fortifications. Note that the Russian pickelhaube helmet for artillerymen retains the pointed spike, unlike Prussian artillery pickelhauben which were topped with a ball.
Below: From TSITADEL 1997 No. 2 (5). The caption translates: "The external appearance of sailors carrying out offboard duties at the end of the 19th and beginning of the 20th centuries could present various combinations of elements from the uniforms established in the navy at this time. For officers--a frock coat or tunic with dark or white pants; for lower ranks--a dark-blue or white shirt, and sometimes working dress as shown in the illustration. Mandatory for all were tall boots into which the pants were tucked. Accouterments and arms: for officers--saber and revolver with lanyard, for sailors--sword belt with two ammunition pouches and rifle with bayonet."
The sailor's cap band is for the battleship SISOI VELIKII, and the scene is the Boxer Rebellion in 1900. SISOI VELIKII was Sisoes the Great, a 5th century Coptic hermit and saint. The ship met its end when sunk by the Japanese at Tsusima Straits in 1905.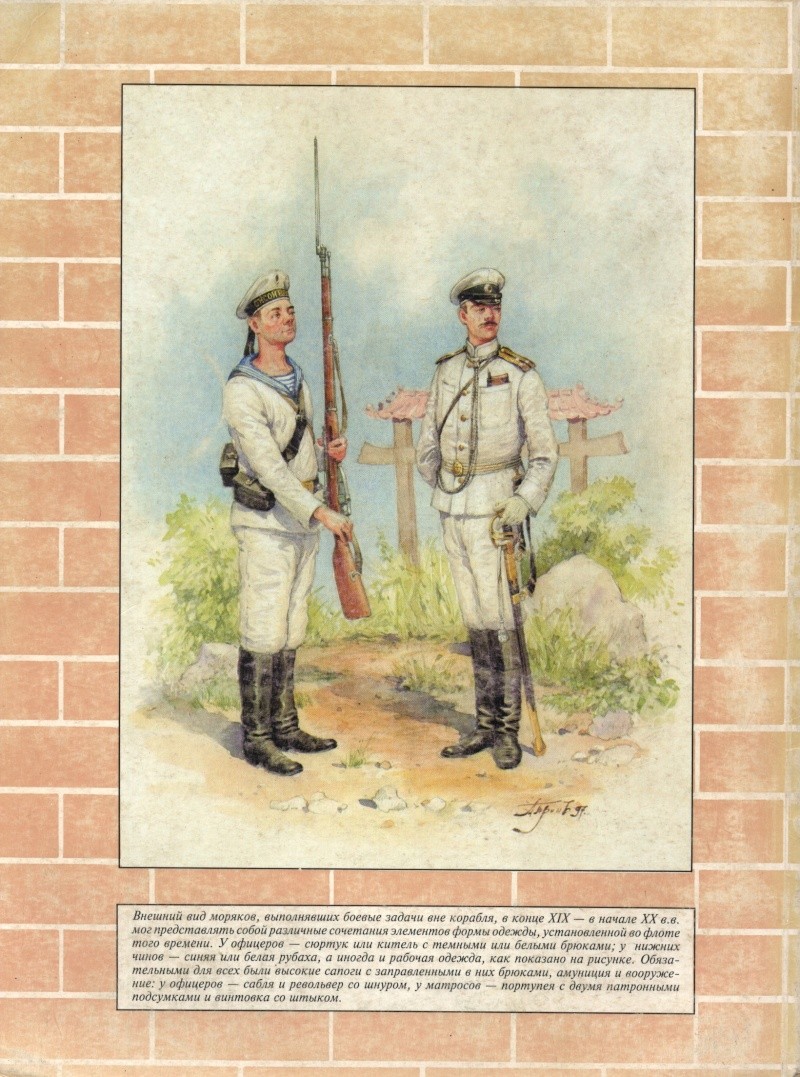 Posts

: 386


Join date

: 2008-07-27






Posts

: 15


Join date

: 2010-01-28



Thanks! Excellent, I did not know of this site.



Posts

: 386


Join date

: 2008-07-27



Worth the effort, some very nice insignia and illustrations of a quality not found on most English sites.
Only wish I could read Russian to get the full benefit of such an excellent site.
Thanks



Posts

: 1191


Join date

: 2008-04-16


Location

: Durham UK





Similar topics
---
Permissions in this forum:
You
cannot
reply to topics in this forum